Well full of good intentions, early last week I embarked on a new pencil drawing. I chose an African landscape with elephants as my subject, the main reason being that I have sold all of my original elephant drawings so it was about time for a new one. I have a working title of 'Arrival', although this may change if I think of something better as I work on it.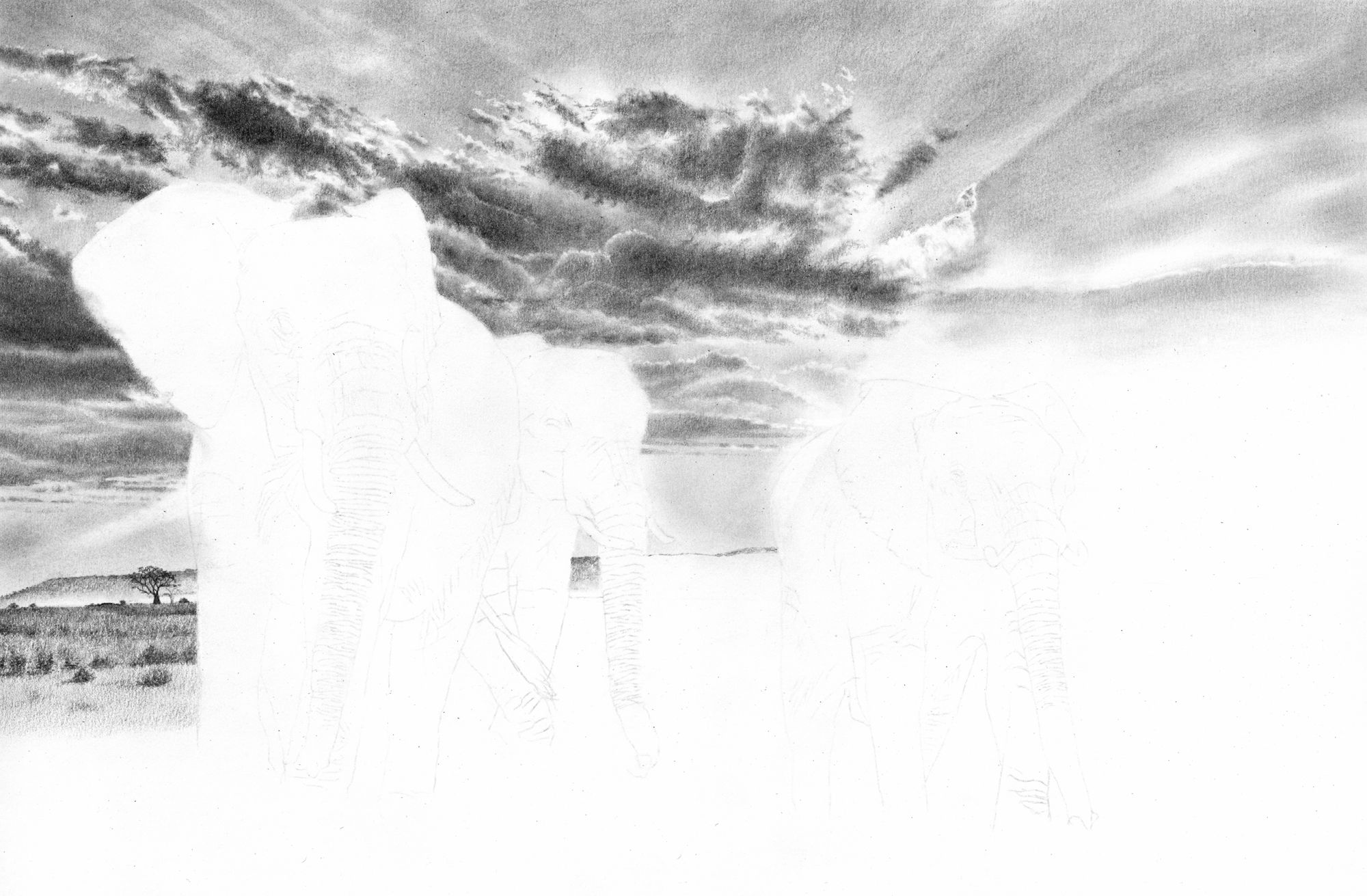 I had just received a new set of graphite pencils to try out and sad as it may seem, I was quite excited to get them. They are Pitt Graphite Matt by Faber Castell. The point of them is, being of a matt finish, there is little or no light reflection from the pencil marks. It's always been a slight problem with pencil work, if caught in the light at the wrong angle the monochrome effect is spoiled, also making it very difficult to photograph or scan. Because of this I have tried charcoal pencils in the past, which are great but I found it difficult to achieve the same level of fine detail as 'proper' pencils. Mixing the two in the same drawing didn't work for me either.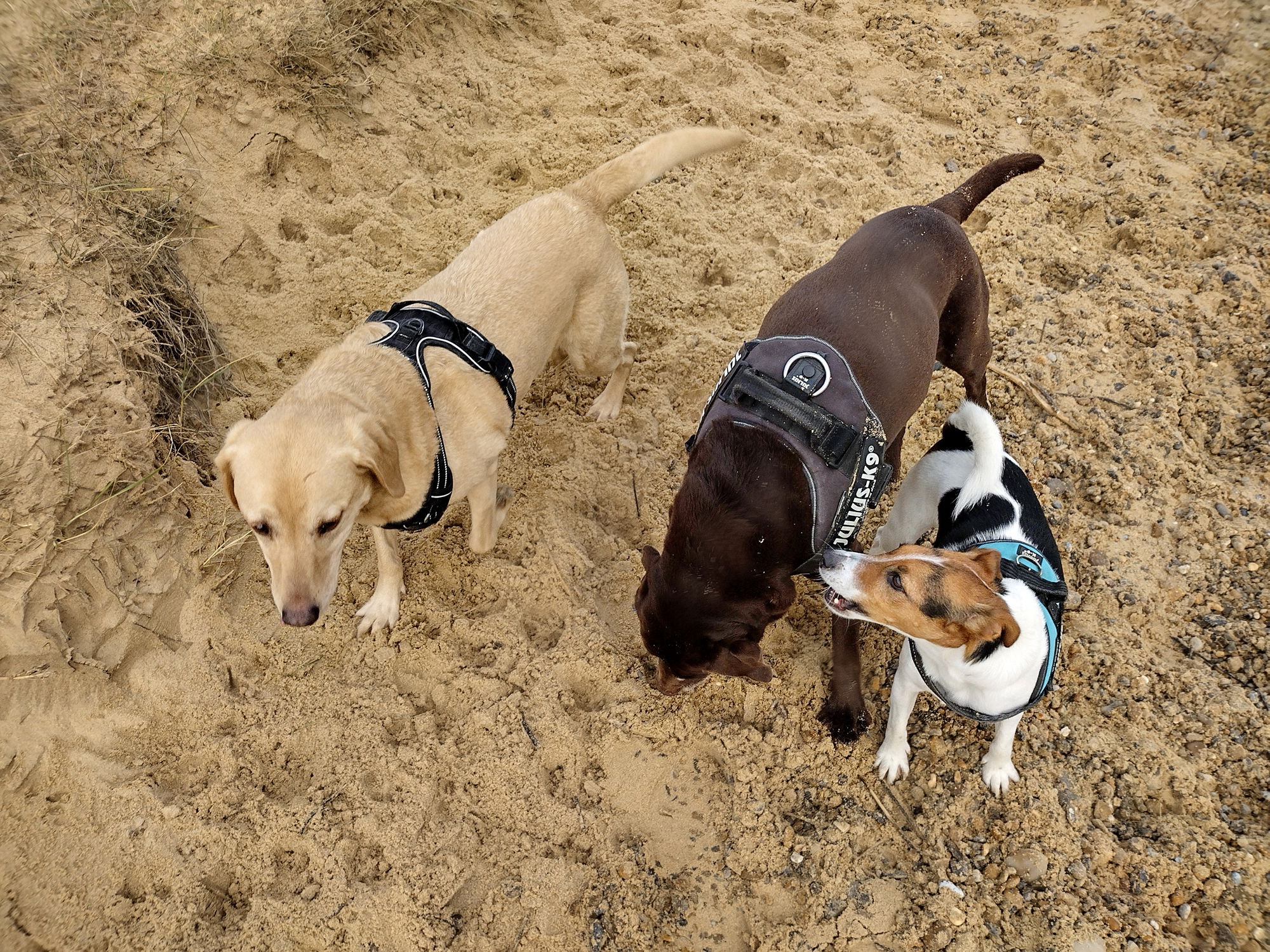 You may be wondering why I've inserted a photograph of three pooches at this point? Well, to cut a long story short, after only two short sessions of drawing I managed to badly sprain my right wrist while attempting to walk these three hooligans on leads as we left my back garden. I had them all in the same hand as I struggled with the gate and they all decided to bolt at the same time once it was slightly ajar, bending my hand right back on itself bloody painfully. Therefore I only have a partially completed sky to show for a week's work.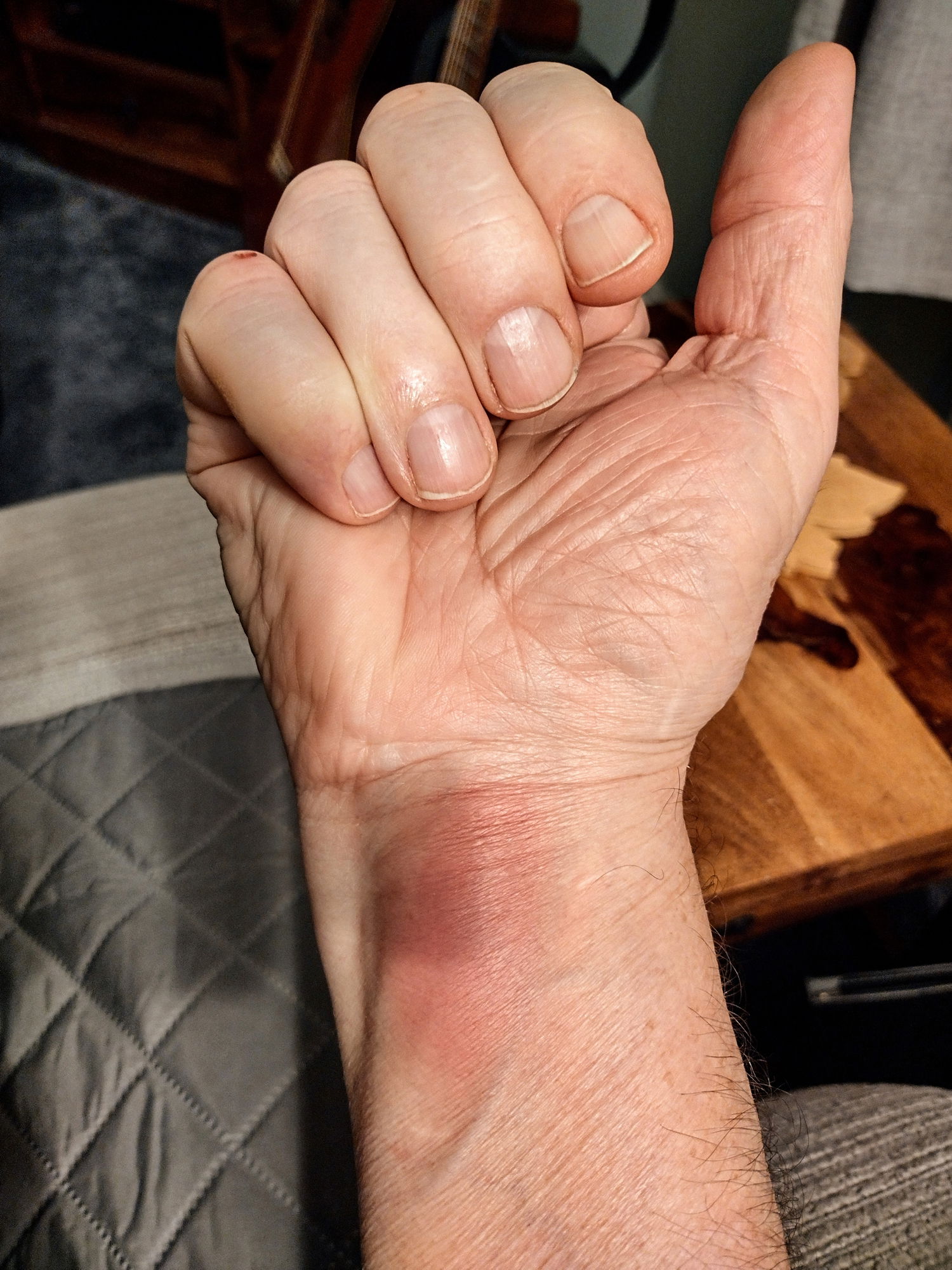 Despite my obviously agonising injury, I'm being brave enough to at least say how I'm getting along with my new pencils so far.
I'm using a piece of Stonehenge paper of about 20 x 13 inches, which has got a slight toothiness to it, enabling rich darks where required. I only bought pencils in HB 2B and 4B grades for now, 2 of each, to make sure I like them before splashing out on more.
My immediate observation was that even the HB pencil gives quite a dark tone on this paper, so I had to work very lightly on the paler areas of sky, using a piece of soft cloth to blend, but I managed OK as I got used to it. The 2B and 4B really do give rich tones, plenty dark enough for this particular scene of dark clouds silhouetted against the African sun.
One of the advantages of these pencils over charcoal is their ability to maintain a good sharp point for much longer. Secondly, I can already see that that there is far less reflection on even the most highly worked areas, but still a long way to go.
I'm thinking I may need to buy some of the harder grades before I use them again but for now HB will suffice.
On the down side, I do think there is a very slight graininess to these pencils compared to my usual Lyra brand, but I guess that is only to be expected. They cost quite a bit more too.
Although still black and blue, after a week my wrist is less swollen and painful so I'm about to resume drawing. Hopefully I'll have much more progress to show next week.