Well, it's been a long time since completing my previous artwork. Several months actually! I'll explain (or skip down the page if you're not interested, I won't mind)
It's partly due to ongoing problems with the joints in my hands but regardless, it's been a busy time for me one way or another, including a period where I had to give up my studio space while we had a new kitchen fitted at home. I did quite a bit of the work myself to save money. Living in such chaos, I just didn't have the time or inclination to settle down and work. Unfortunately, any kind of long layoff like this inevitably leads to my level of commitment to my art draining away completely. I found myself thinking up excuses for not starting work on any new art projects.
Instead, I've had my woodwork tools out and been creating a few things to enhance the kitchen. Things like this table (which Jenny calls an 'Island') with matching stools that I refurbished from old ones.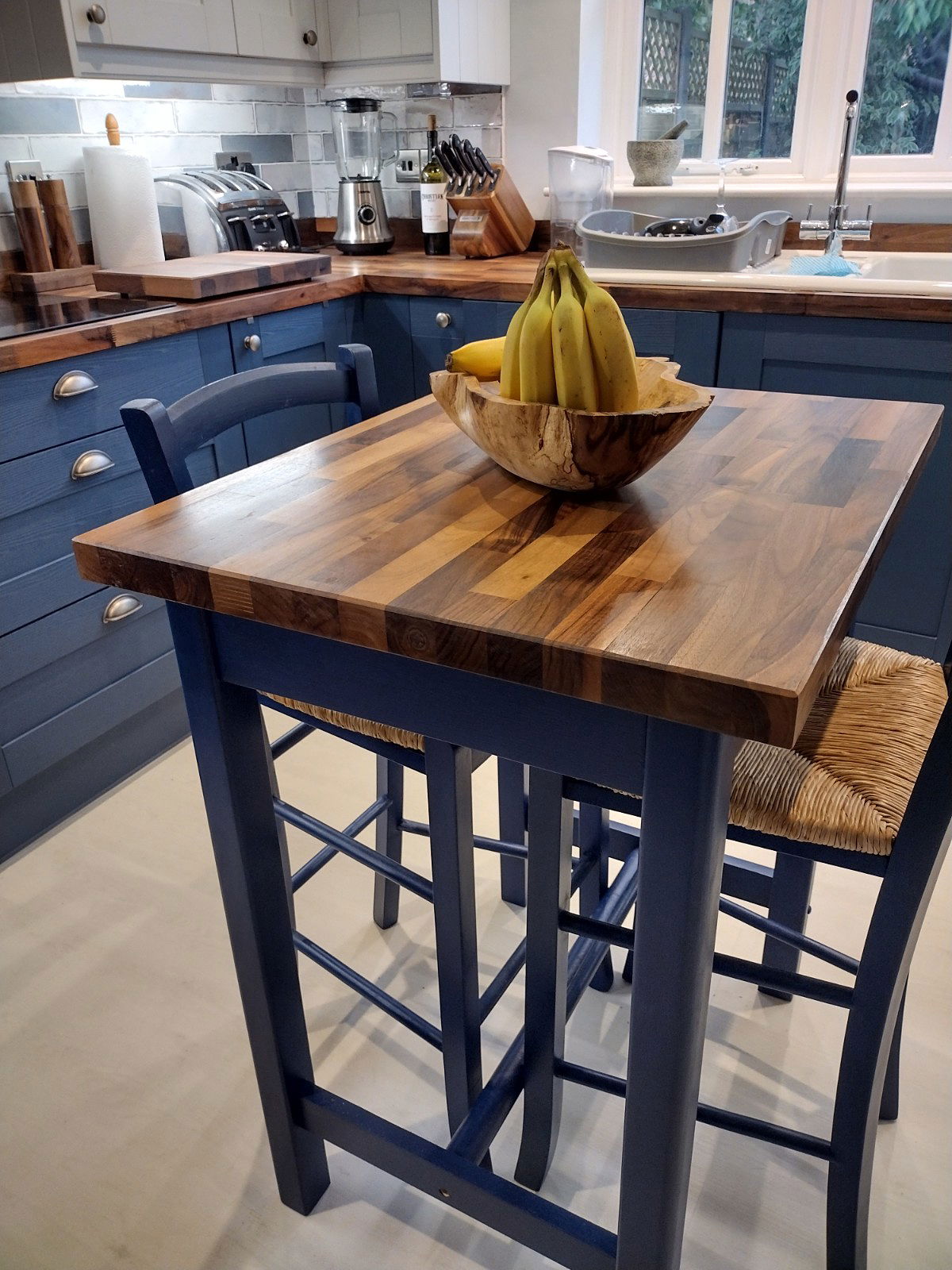 Then this cruet set stand, plus more chopping boards than you can shake a handful of leeks at. (Well, I hate waste and I had all these offcuts from the walnut worktops to use up)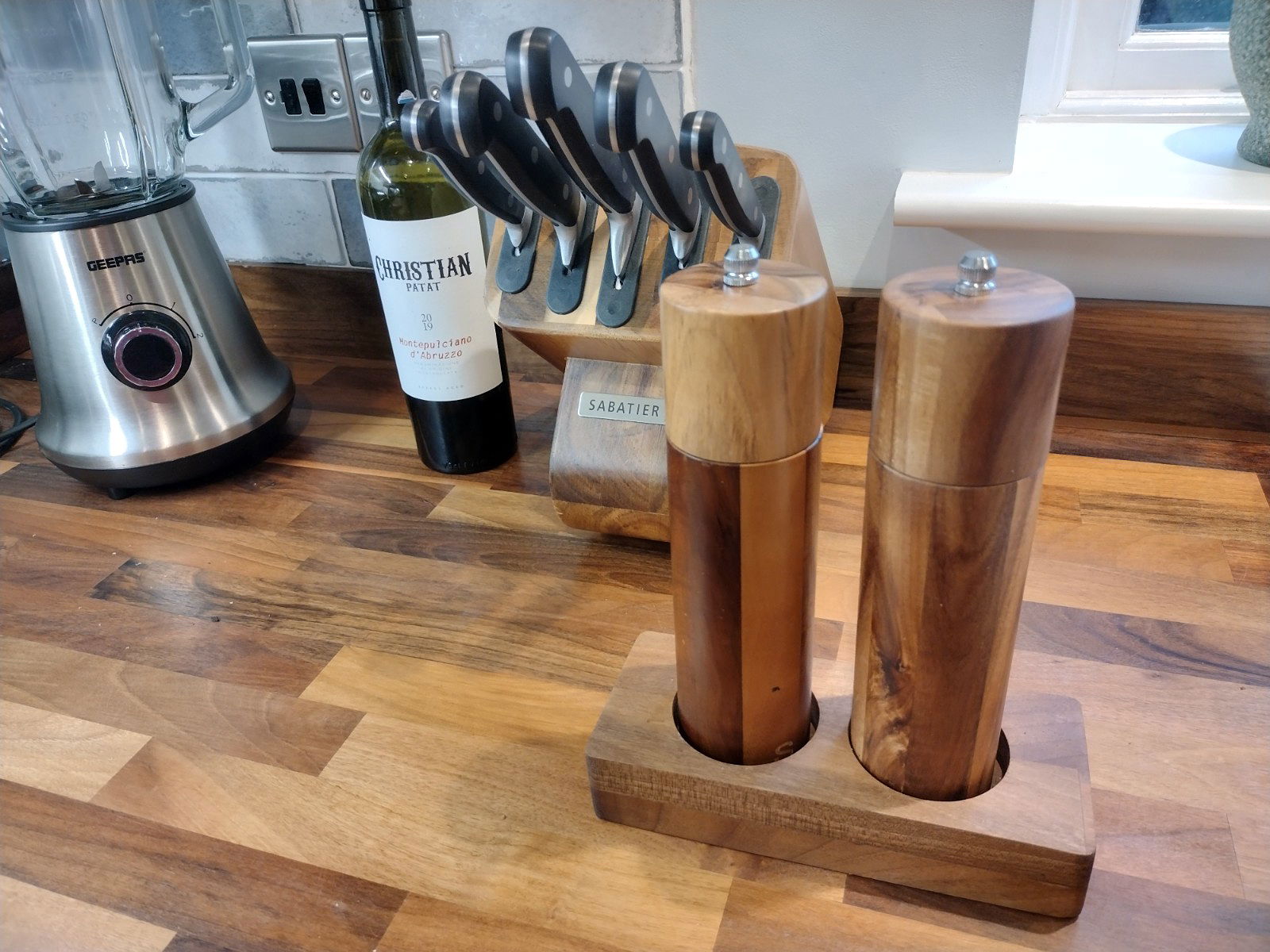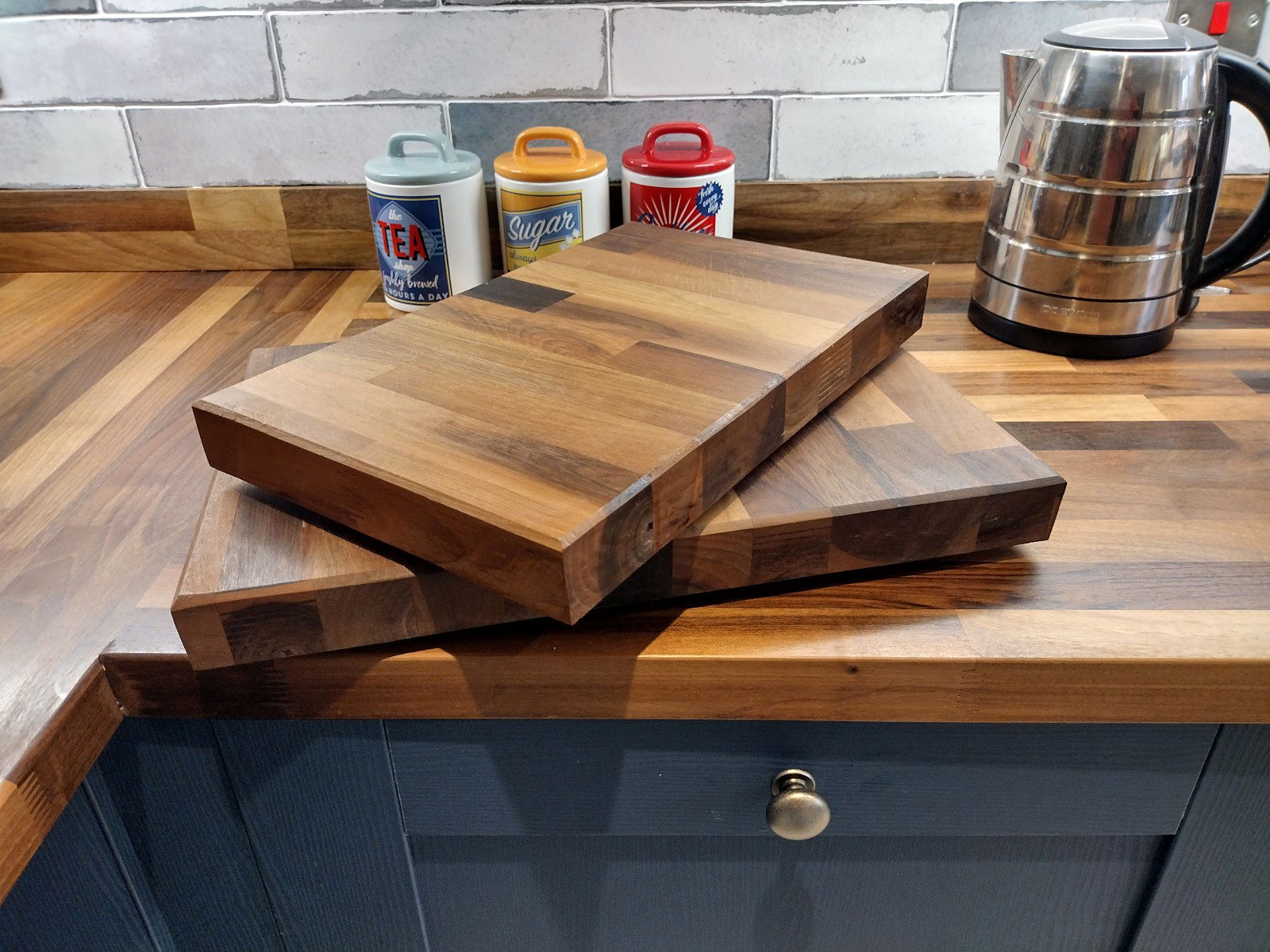 But I digress.
The time finally came for me to bite the bullet and get back in the saddle. One rainy morning I took a look at Unsplash.com for some inspiration and came across a nice reference photo of a timber wolf. Wolves are the subject that I enjoy most and feel comfortable with, so ideal to get me back into the groove. My photo has been manipulated in photoshop to create the final composition, giving five wolves for the price of one.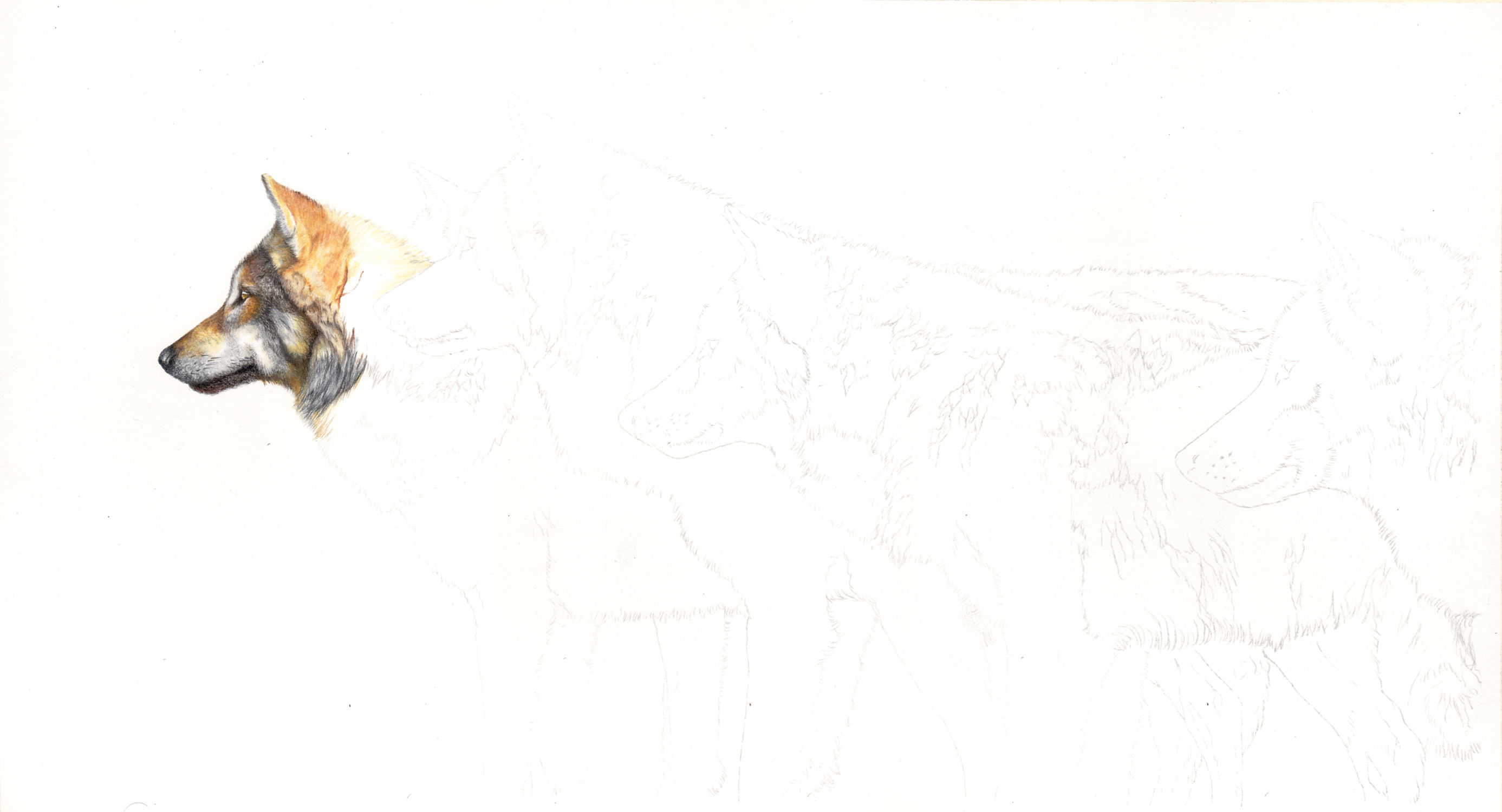 As usual, after laying down a light pencil sketch onto a piece of Strathmore 400 paper, I began in the top left corner. For this piece I used my set of Caran D'Ache Luminance coloured pencils as well as my set of Faber Castells.
I'm finding that I can only work with pencils for about a couple of hours or so at a time now, before the joints in my hands begin to seize up and the pain gets beyond a joke. I'm limited as to what pain relief I can use due to other health issues so I don't push myself too far. Great fun growing old isn't it. So that tiny portion of a wolf's face pictured above is all I managed for my first session.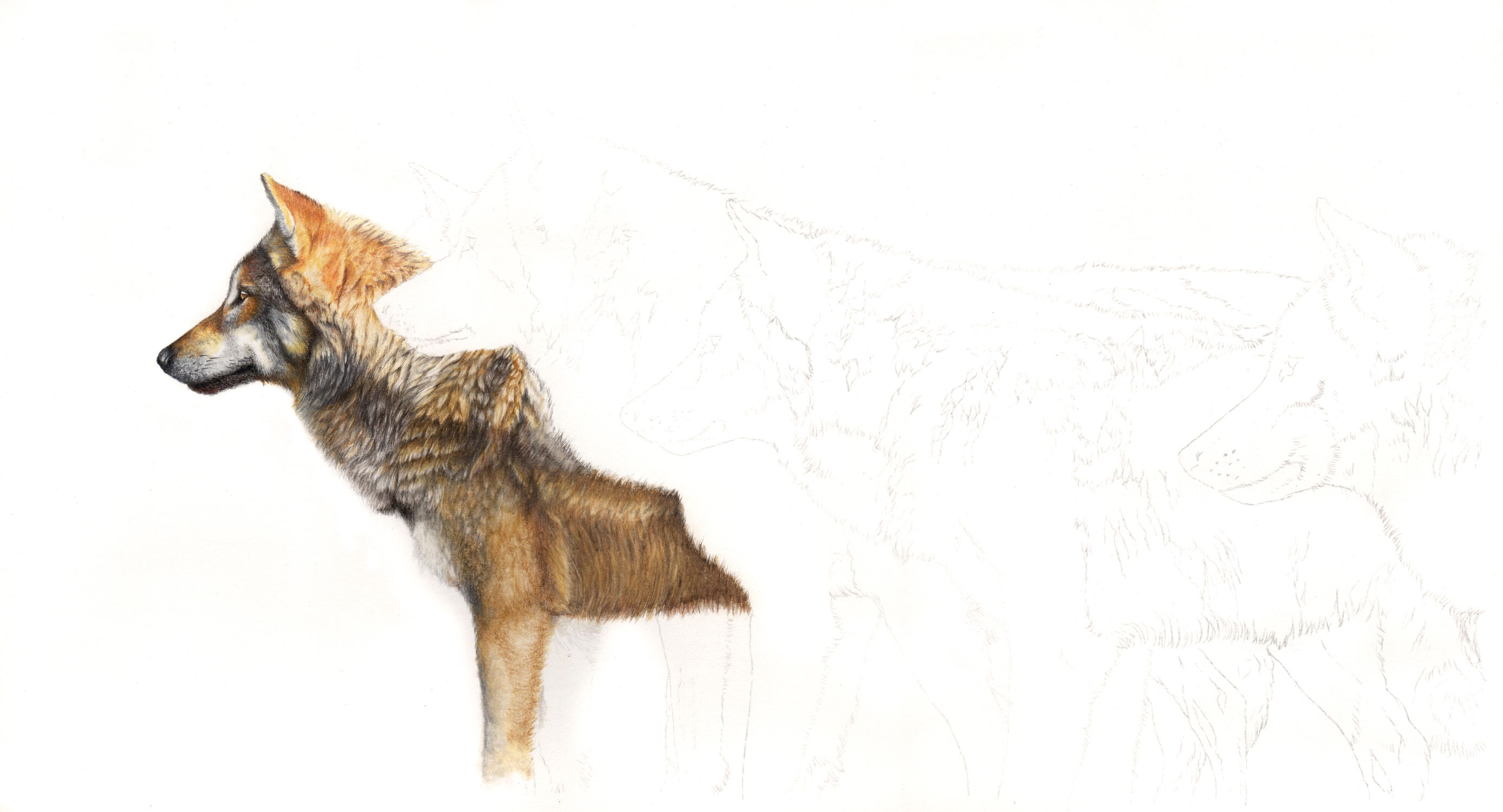 The above picture shows a couple more days of work, with another day's rest in between and I'm pleased to have almost a complete wolf on my easel. This will make the rest of them easier to do as they are all the same.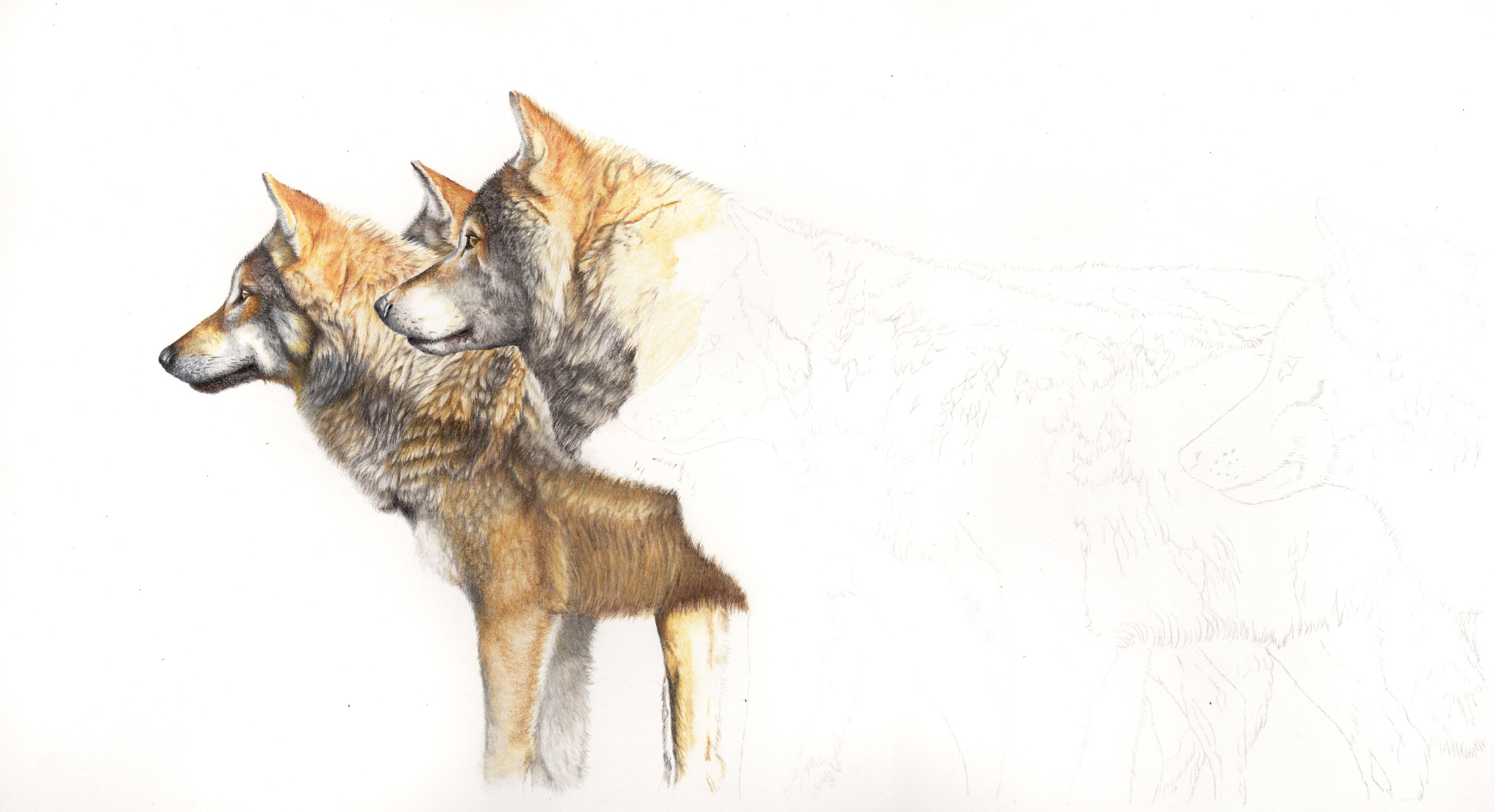 My challenge now is to subtly change each wolf to make them look very much related but not identical. I'm also considering the light and shadows cast by each one onto it's neighbour.
My method of laying down pigment for a drawing like this is very much like oil painting. I sketch my colours evenly in a wash across an area and then carefully blend using white spirit applied with cotton buds and soft cloth. While still damp from the spirit I then use sharpend pencils to add details, blending a little more as necessary until I'm happy. It's a time consuming method but it works for me. The white spirit allows for several more layers than I would be able to apply to a dry surface, thus giving deeper tones and sharper details too.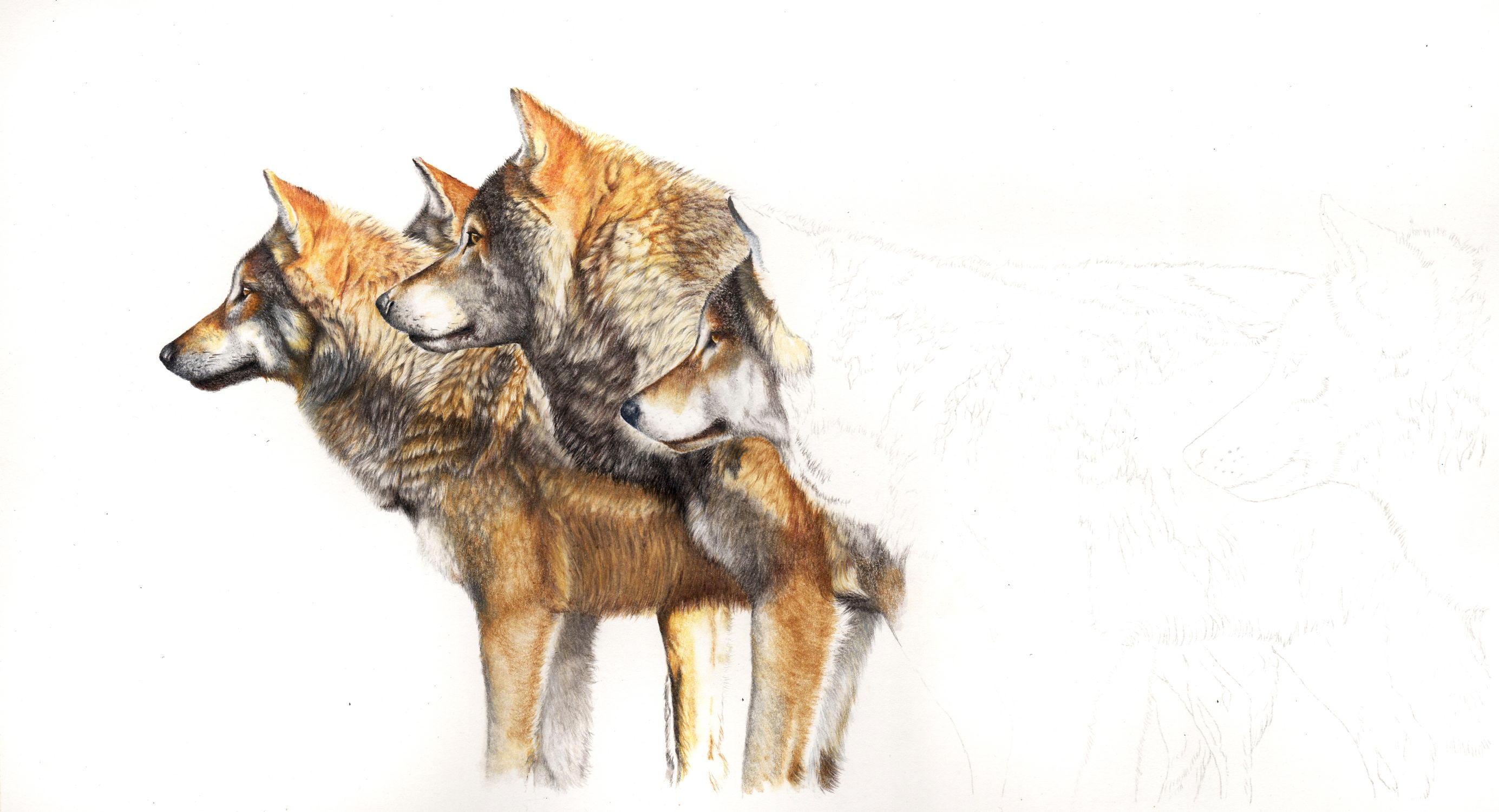 A few days later and it doesn't look as though I've progressed very much, but time has been spent going over the work already completed to adjust tones and refine details.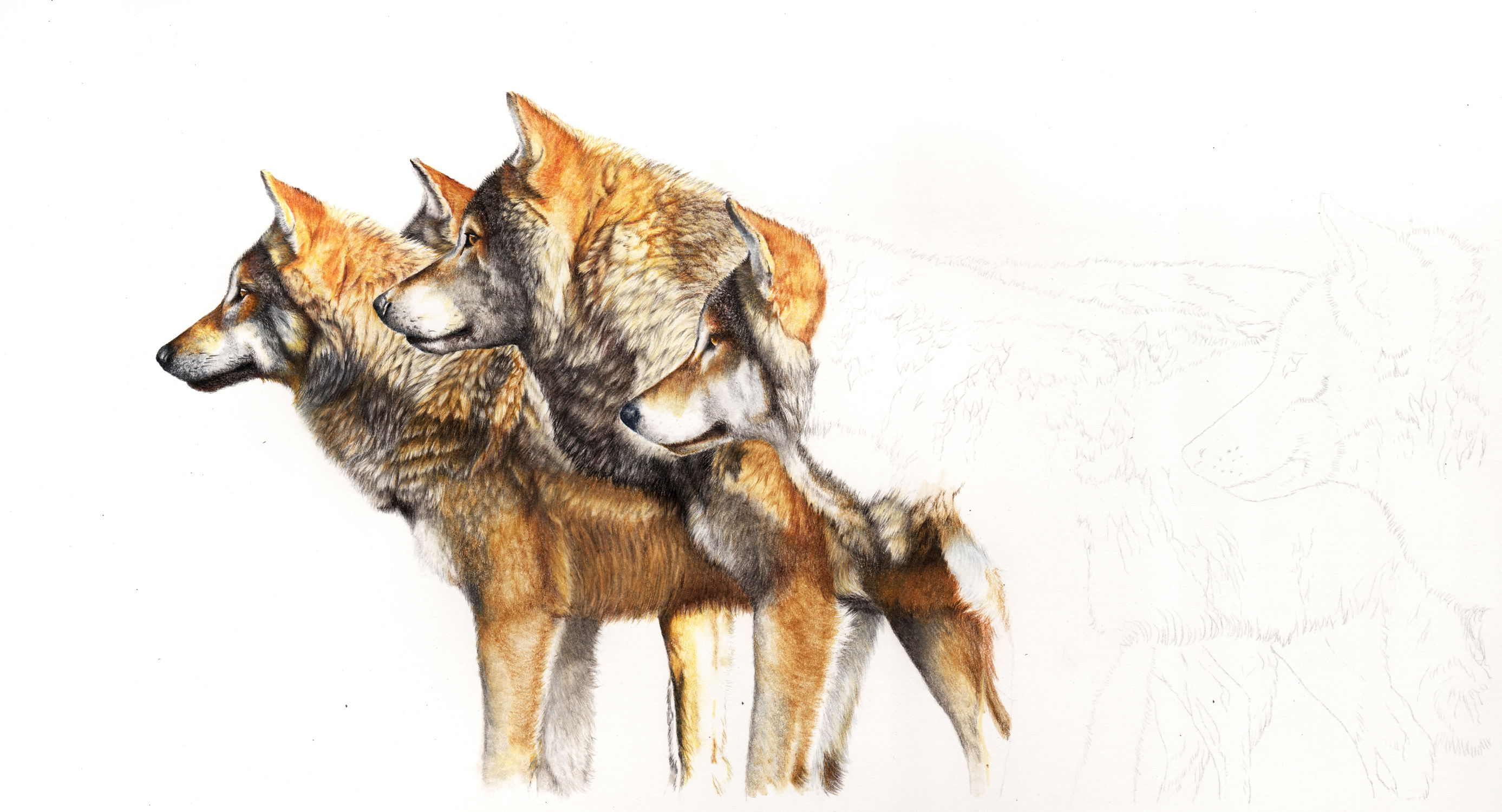 Only a small amount of work done here as I went through a bad patch with my arthritis and had to leave it. I almost gave up and was considering trying my hand at abstract painting. I could probably use my feet for that, but after a few days rest I felt able to continue.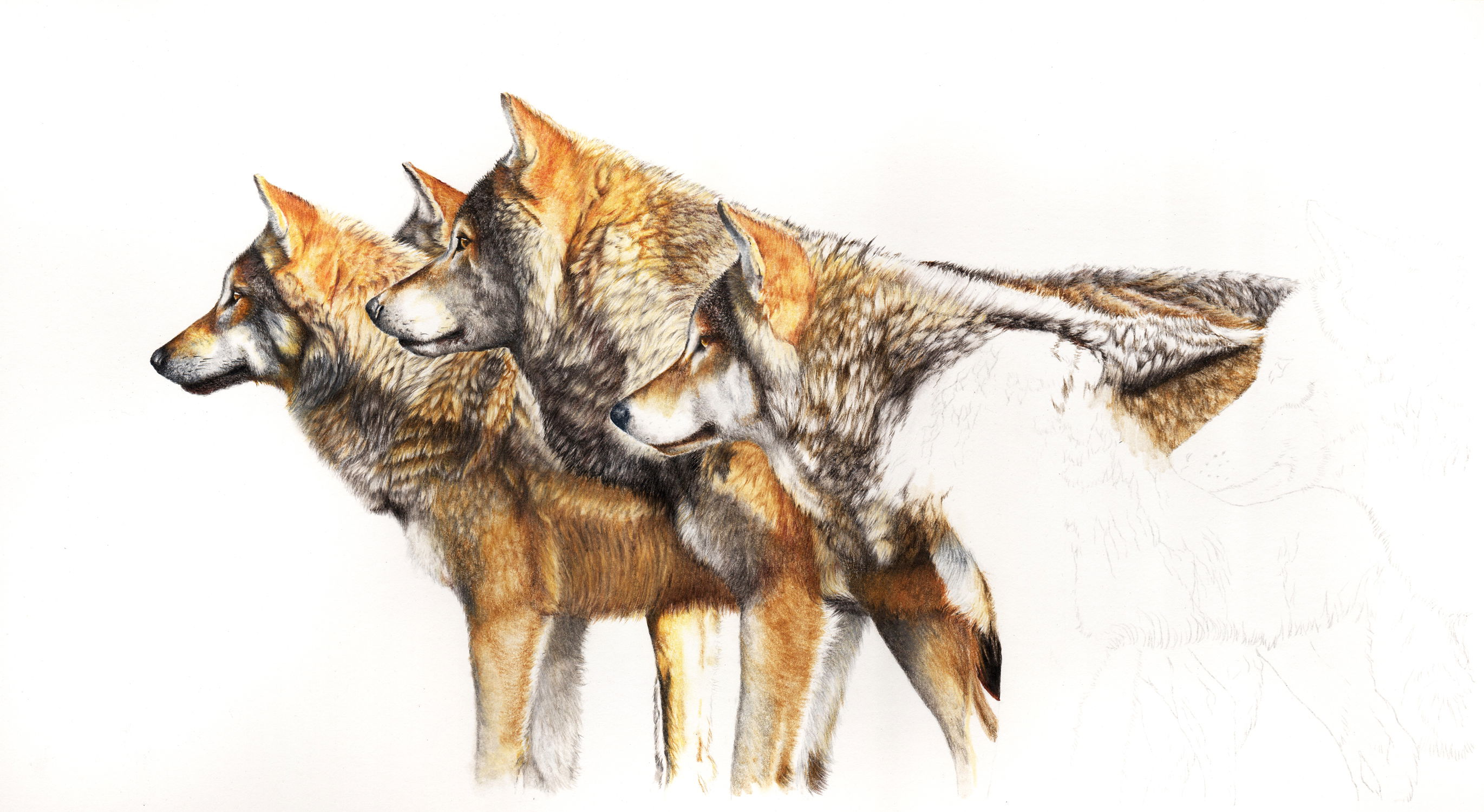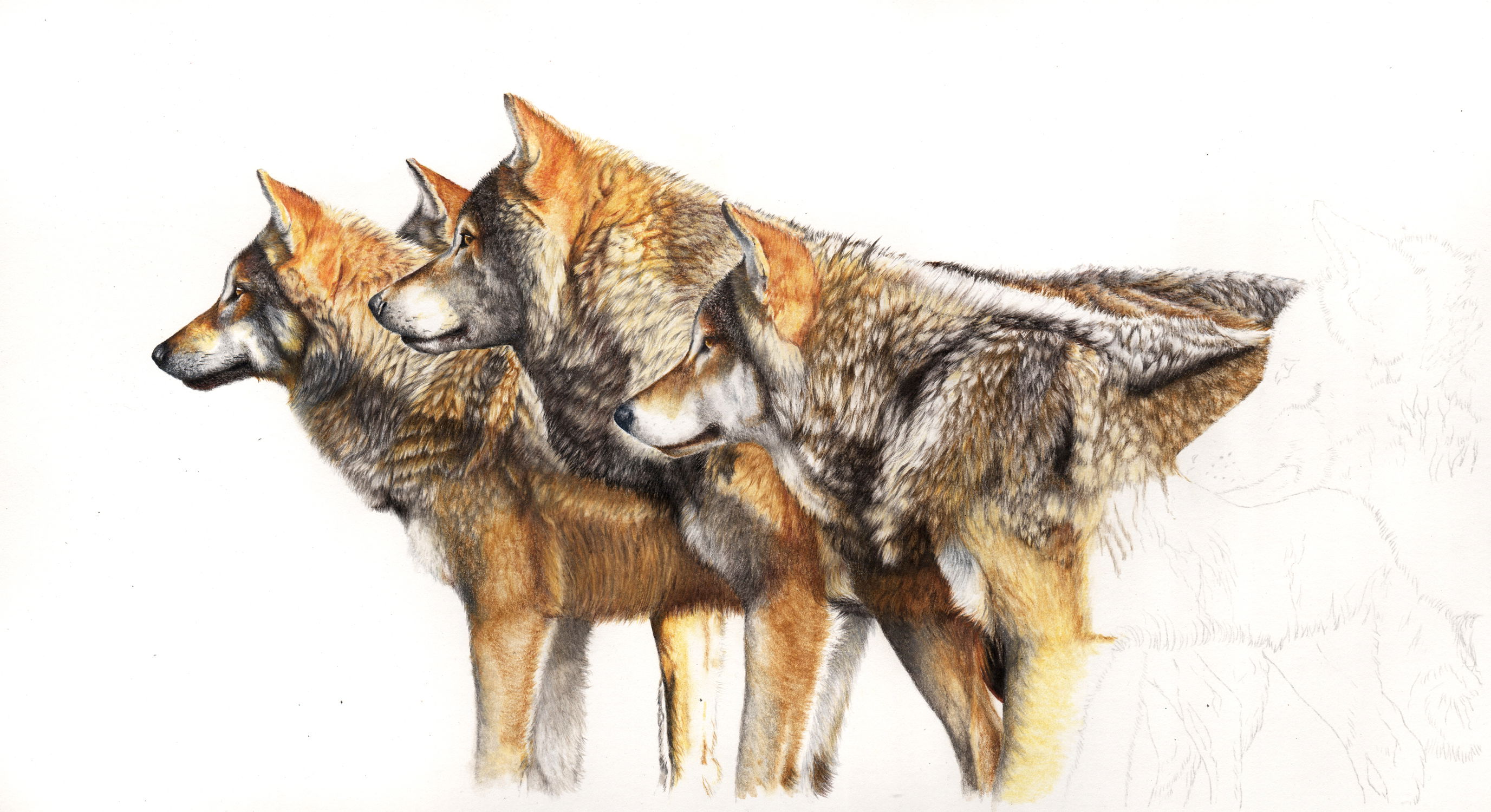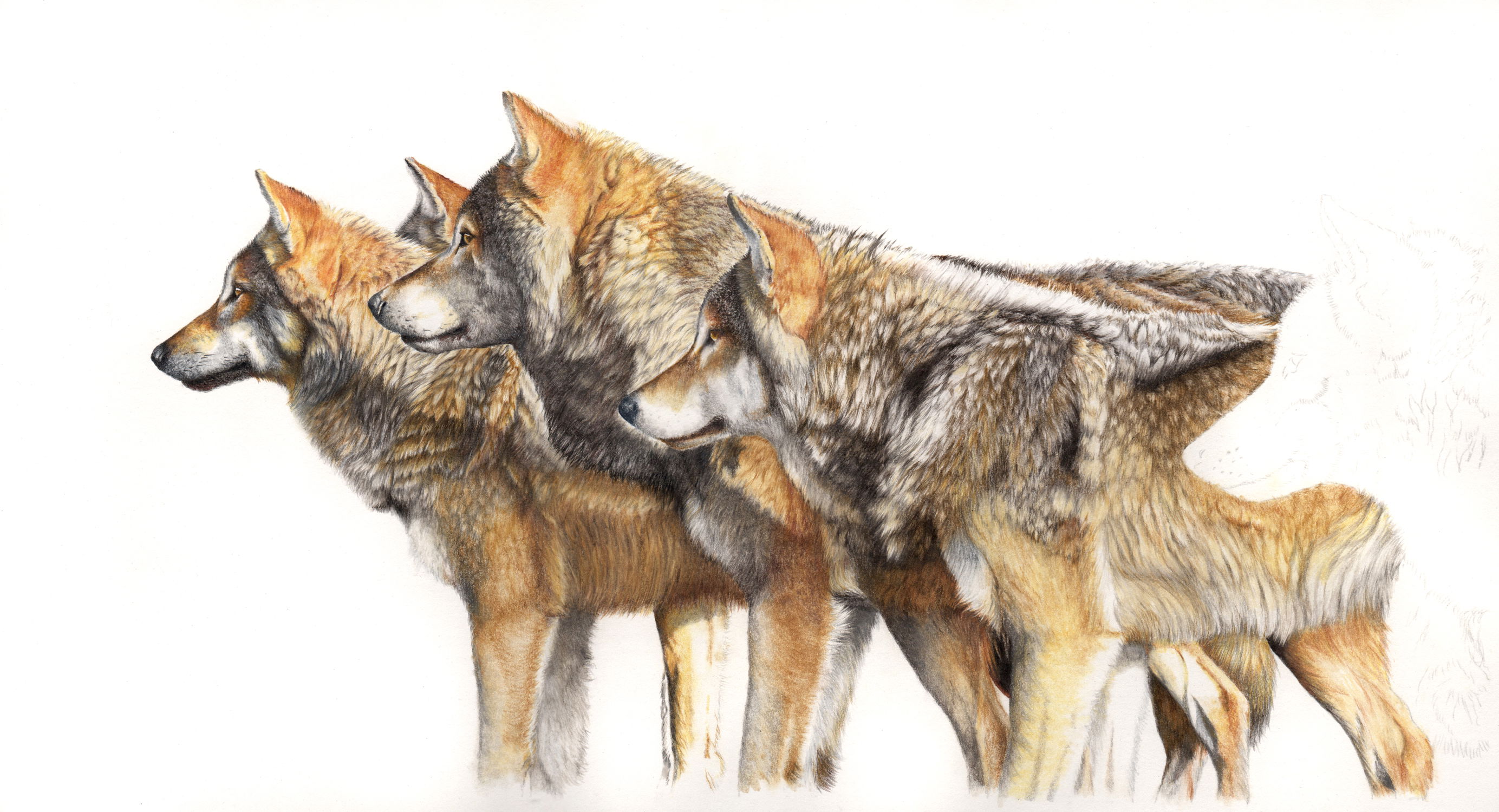 More of the same, constantly going back over what I'd already done to make the necessary adjustments and tidy up.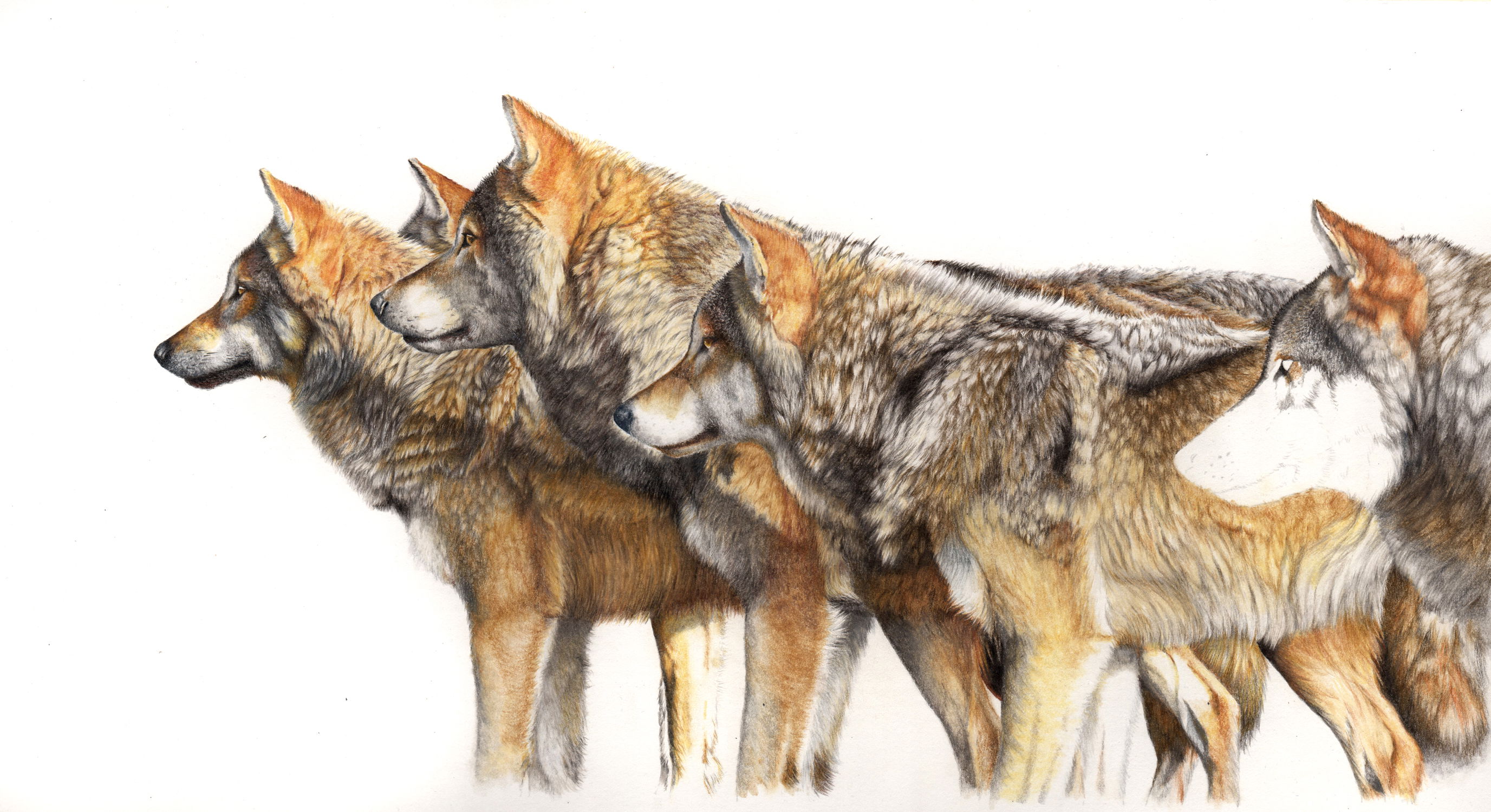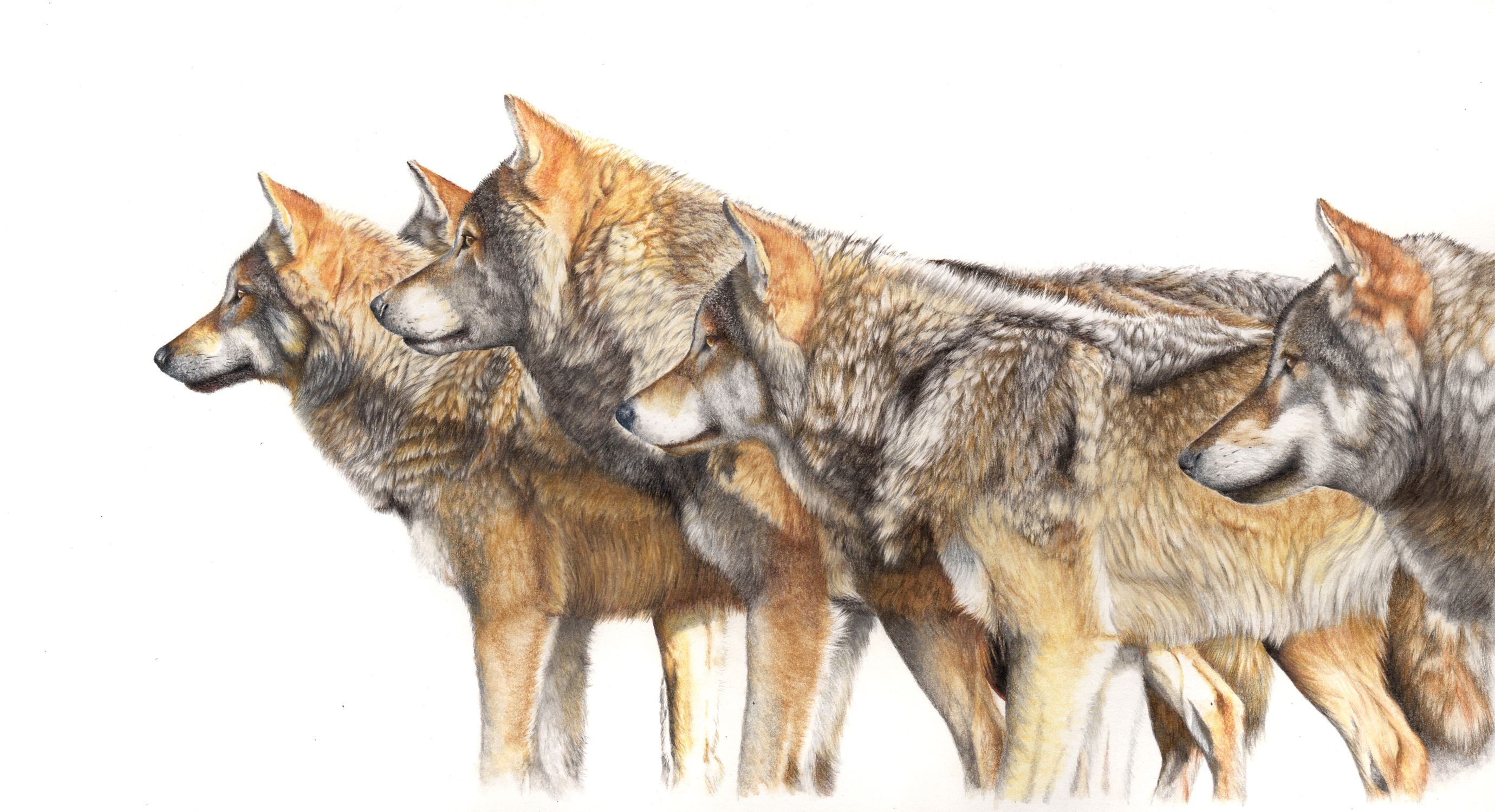 Finally I have all of the wolves in. I lost track of which legs belonged to which wolf for a while. I'm hoping the small differences I've made to each animal is enough to make them individual.
At this point I began to deliberate about what to do regarding the backround. I'm happy about the negative space, but from experience I know that my customers like to have something in the background. But it would be so easy to muck it up now and see several weeks of hard work go down the drain.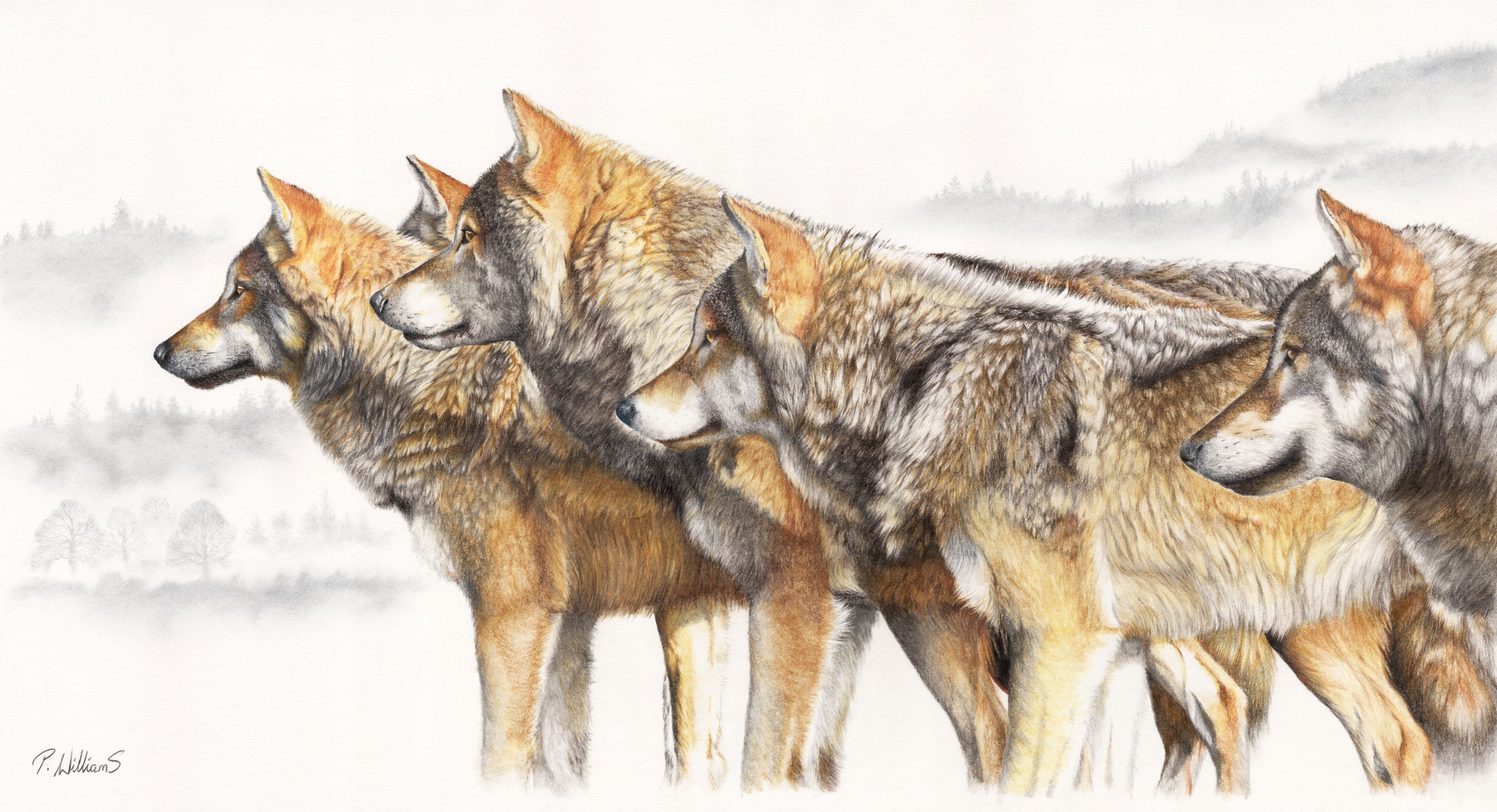 In the end I decided to go for a distant, mountainous skyline with some mid range trees too. For this I've used my metalic silver pencil which is very soft. I'm able to blend this one with a dry cloth and paper tortillons rather than use the white spirit, to give a misty effect. I'm happy with this. It gives the picture some depth and indicates the coldness of the environment, without being too distracting.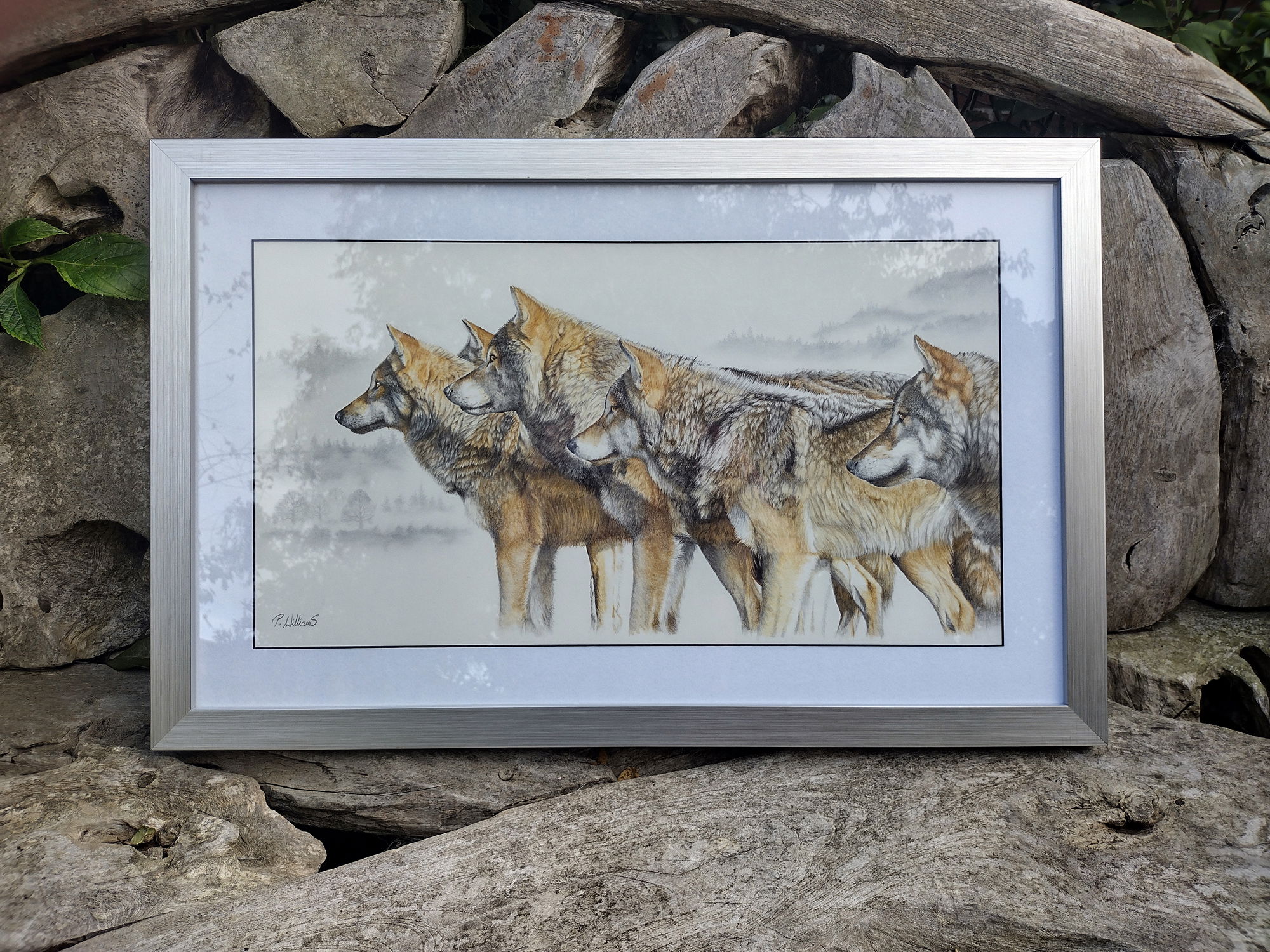 Above is a photograph of the finished drawing in its frame and mount. I chose quite a chunky 1.25 inch, brushed aluminium effect frame. The total size including the frame is about 27.75 x 17.75 inches.